La agencia literaria Squirrel Communication and Culture. SCC.JSC. y el autor Xavier Marcé han anunciado su acuerdo de colaboración para que sus obras puedan llegar al público de Vietnam. Con más de 140.000 lectores en todo el mundo en español e inglés, el autor Xavier Marcé busca que la saga literaria de La marca de Odín y el thriller de El loto de piedra puedan dar el salto al mercado vietnamita.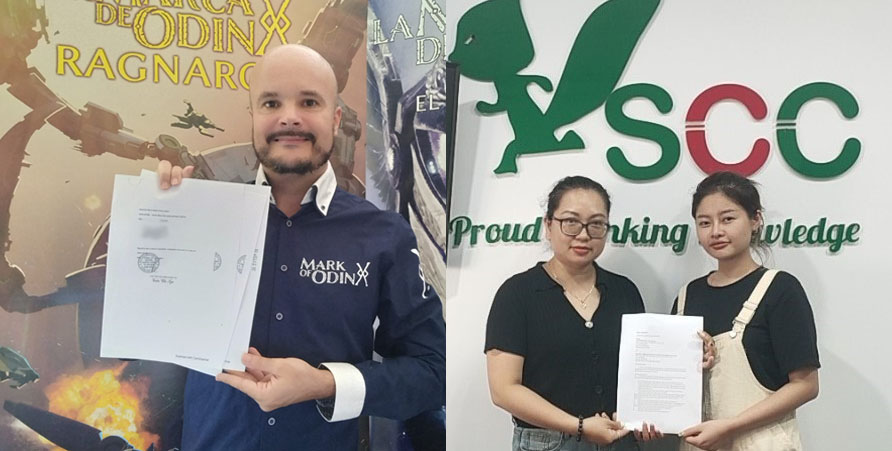 Squirrel Communication and Culture es conocida por ser una de las mayores agencias literarias en Vietnam, con oficinas en Hanói y Ciudad Ho Chi Minh. Su experiencia y contactos serán esenciales para conseguir llegar a acuerdos con editoriales locales para traducir y publicar las obras de Xavier Marcé.
La firma del contrato se realizó durante la última etapa del Asia Tour 2023 que ha realizado recientemente el autor Xavier Marcé, durante su estancia en Hanói. A lo largo de tres meses, Marcé se ha reunido con editoriales, agentes literarios y estudios de cine y animación, en Tailandia, Taiwán, Japón y Vietnam. El acuerdo con Squirrel Communication and Culture es el primer fruto de estos encuentros, aunque se espera anunciar nuevas sorpresas a lo largo del verano respecto a otros mercados del sureste asiático.
"Con casi 100 millones de habitantes, Vietnam es sin duda uno de los países más emergentes y atractivos de Asia," ha dicho el autor Xavier Marcé. "Tras la publicación en español de El loto de piedra, Vietnam se ha convertido en un mercado prioritario para mí y tengo la confianza de que las agentes literarias de Squirrel Communication and Culture serán las mejores aliadas para conseguir que mis obras se lean pronto en vietnamita."

"Tras conocer a Xavier Marcé en la Feria del Libro de Frankfurt tuvimos claro que su obra tenía un gran potencial," ha asegurado Mai Anh Truong, Right Deputy Manager en Squirrel Communication and Culture. "Viendo su crecimiento y la publicación de una novela tan intrigante y emocionante como El loto de piedra, que conecta España con Vietnam, estamos convencidas de que conseguiremos que pronto los lectores vietnamitas puedan disfrutar con sus historias."
Para celebrar este acuerdo, el autor Xavier Marcé ha anunciado el lanzamiento de las versiones en vietnamita de la página web de El loto de piedra y de su página web Xaviermarce.com. A partir de ahora, los usuarios de Vietnam podrán seguir todas sus novedades también en vietnamita, además de en inglés y español.